Over Thanksgiving Mike and I went to Iowa to visit his family. We had a great time there. We got to play a ton of card games (my favorite) and eat a lot of delicious food! Mmmm. By the end of the trip Mike and I were really missing our pups and just having dogs around in general. Mike's uncle Allan and aunt Sandy brought over their pups, which made us very happy! We always hear stories about them and to finally meet them was great. The two pups are Casey and Sasha. If you can believe it, the one in the front is actually a puppy!

This is Sasha



This is Casey


Here Casey and Sasha sit together. It looks like Casey is laughing at Sasha :-)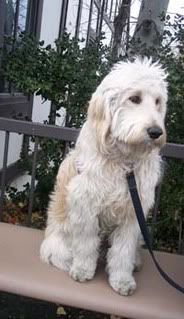 After getting back from Iowa, Mike and I picked our pups up at my mom's in Lake Arrowhead. (Thanks Mom and Scott for watching out pups!!) On our trip there we visited the Lake Arrowhead Village. There we met Bubba McDoodle, a service dog. This pup was soo cute! The owner said it was part labradoodle part english sheep dog. McDoodle was adorable.

The following pictures are ones taken by Michael. They are of the pups. We thought that since we were finally updated the blog with pictures we might as well add some of our pups :-)

This one is Ender standing next to Mike's feet.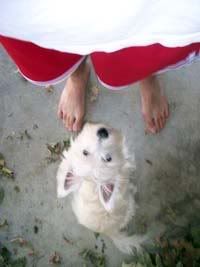 This is a really good shot of Emily, courtesy of Michael.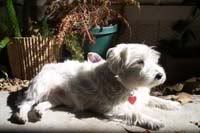 This one is Ender again, because it is beyond silly and makes me laugh every time I see it!


To end of the photos, here are my pups and me :-)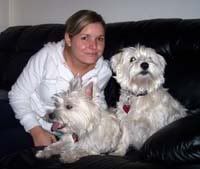 Have a great weekend!