Some of my favorite readers,
Mike & Kelly
, who have been featured before with their Border Collie
Rory
, have just received their baby puppy Riley, also a Border Collie. I was told about her a little while after she was born and could NOT wait for the pictures of her first day home. Featured below are the pictures of Rory's first days home.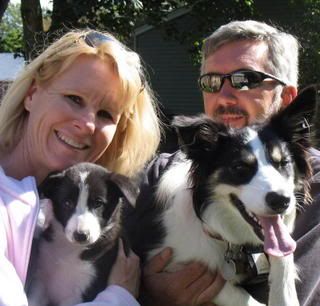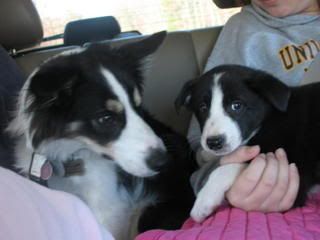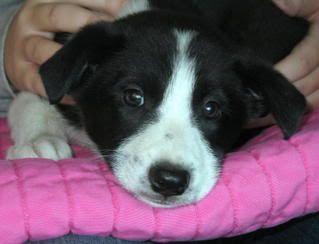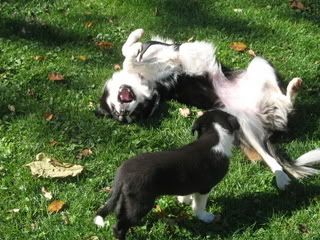 Riley's Story
:
As of Wednesday, Riley turned 8 weeks old--born Aug 23, 2006. She is the puppy of Brynn and Bill (USBCHA High Points Champ 2005/2006, NEBCA "Supreme" Champion 2005) of Andover CT. Riley's mommy had her in Cape Cod as her parent's owners were in competitions with the other border collies they owned). Go to the following page to see
Riley's Roots
:
Rory--Riley's big sister now--is so happy to have a little sister. She doesn't even mind when Riley acts like her earring. I caught Riley hanging off of Rory's ear as Rory walks down the hallway. Not to mention poor sensitive, sweet, passive Rory deals with little terror Riley as Riley growls and yips, jumps, wrestle's Rory on the ground. She steals all Rory's toys, but Rory doesn't mind. I haven't seen Rory wag her tail so much or so hard (and she's a happy puppy herself--only 11 months old herself)
Riley is smart too. We brought her home Sunday when she was 7 1/2 weeks old. Every night at about 12- 2am, she wakes with a loud yelp from her crate. Of course waking us, we bring her outside, she does her business, come back in and off to bed she goes!!! amazing.
Will send more pictures as she gets bigger, and when i can find my camera.
Kelly
*****
I hope every one's weekend has gone well. Mine has been a LOT of fun. With Mike's parents in town, we were able to do a lot of things we don't normally do. It was awesome.
On Friday we went to the Huntington Beach strip. We ate at BJ's and then walked the pier.
On Saturday we took Ender to Dog Park for his first time. He loved it! He was soo excited. He finally got his last set of shots on Friday so now he can go on walks, etc. We had a lot of fun. And because Ender was there, Emily was a LOT more social than usual.
After we went to Dog Park, we saw the private screening of a movie Mike worked on, called
The Wedding Video
. The movie was really funny! When it gets a distributor, you all should check it out ;-)
After the movie we went to the Long Beach Aquarium. I had never been there, so it was a lot of fun. I was too scared to touch the sharks but I did touch a sting ray. Also, Dean, Mike's Dad was able to get a few Larakeets on his shoulder. It was awesome.
When we were done with the Long Beach Aquarium, we went to Bubba Gump's restaurant. That was incredible. Mmm. It is a great atmosphere and has tasty food.
Today we went to brunch at a Mexican food place and then visited Belmont Shores in Long Beach. Dean left this afternoon and his mom is leaving tomorrow morning. I think we are going to take it easy tonight, because fun can tire you out! :-)